Intern Interview – Austin & Mari
This summer, we had the opportunity to have two interns, Austin and Mari, work closely with us. It's only been a week since they went back to school and we already miss having them around. Before they left, we asked if they would answer a few questions for the blog to share about their experience working at TRY.
Tell us a little about yourselves: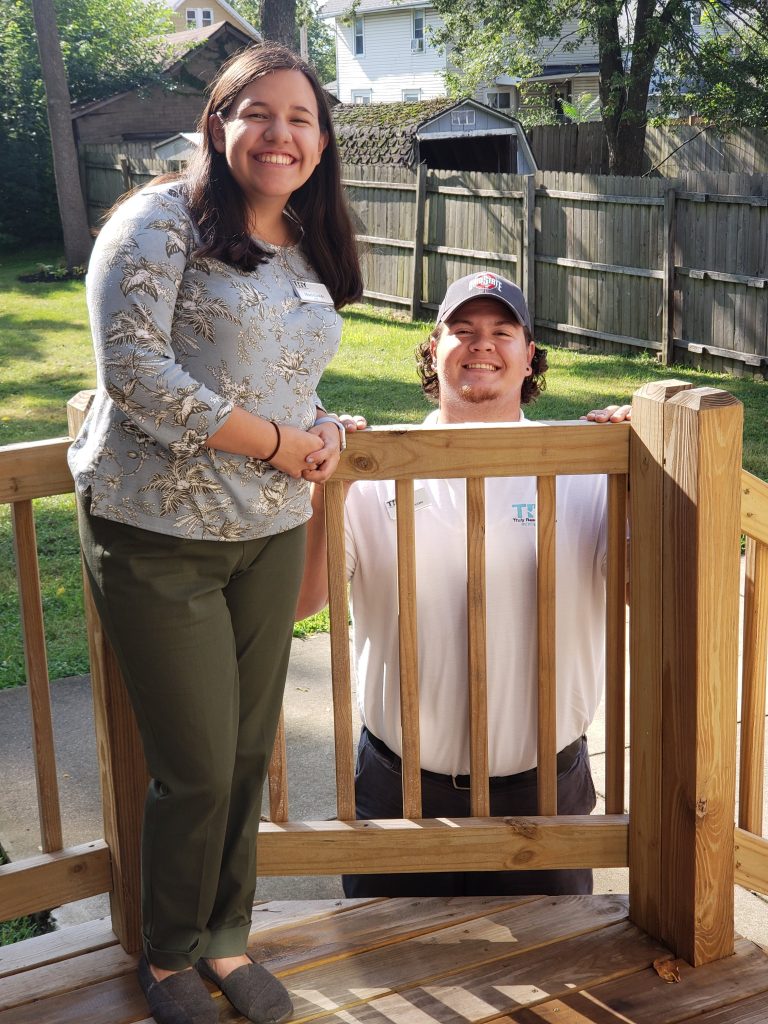 A: My name is Austin Greene, I am currently 20 years old, and I am an undergraduate student at Bowling Green State University. I am studying Criminal Justice with a focus in forensic science. I have a 9 year old brother named Jeremy who currently lives with the rest of my family in Canal Winchester, Ohio. I make frequent stops down to the Columbus area just to see him and the rest of my family that lives there as well. It's a two hour drive from Medina, where I live during the summer, and Bowling Green, where I live for the rest of the year, but it is more than worth it to see my little buddy.
M: My name is Mari Gowdy and I am a junior at Kent State University, majoring in human resource management and minoring in international business and nonprofit studies.  My hometown is Pittsburgh, where my parents live and I have an older sister in Washington DC. I am the vice president of service fraternity Alpha Phi Omega, an upperclassmen mentor in the college of business, and the service/program intern with United Christian Ministries.
How did you hear about TRY?
A: I heard about TRY from a man that I am very close with, Jerry Fiume. Jerry was able to help me gain an opportunity to work with TRY for the summer through his connection with Perry. I cannot thank Jerry enough for reaching out and helping me gain this opportunity to work with TRY.
M: I heard about TRY from Gabrielle, a close friend from Kent State. I received a message before the end of spring semester asking if I had an internship set for summer.  She asked if I had any interest in living in Ohio for the summer and being her intern in fundraising and marketing, and I happily accepted.
What was your role as a TRY intern?
A: My role as an intern was not much different than my role in the classroom. My role was to learn as much as I could. My job title is team leader, mostly for the landscaping crews, but it never actually felt like a job worth having a job title. To start the summer, I spent a couple weeks learning the ropes and meeting the people within TRY. I then moved into the role of team leader, and quickly got to meet the high school students that had to put up with me as their "boss" for the summer. The "students" as we called them, taught me a lot this summer, and often times I felt as if I were the student. I made some good memories with the students along with all of the men and women associated with TRY.
M:  I worked with Gabrielle as the marketing and fundraising intern.  My main tasks were to help manage the social media accounts for TRY and to assist in maintaining the TRY database, Little Green Light.  On occasion, Gabrielle and I would take field trips out at one of the transitional homes or the warehouse and take photos for the blog and social media.  Sometimes I got fun, miscellaneous tasks such as cutting out cardboard letters for spray painting, creating labels for the warehouse, or lamenting pictures.
What is one thing that you will take away from your experience?
A: I would like to thank Perry and Steve for the opportunity to learn and grow as a young man. Thank you to the men in program that made my job feel as if it were not a job at all. Thank you to Randy for helping me see the big picture and teaching me how to work efficiently. Thank you to the rest of the team leaders that each taught me something new every day. Thank you to the office crew for maintaining a positive attitude and making work fun every time I stopped into the office. Mostly, thank you to Jerry for having the awareness to recognize a way to help me get my foot in the door at TRY. It has been an experience that will forever change my life, and I am forever grateful for the opportunity I was provided, and I am sad that it is coming to an end for the summer.
M: I got to hear transformation stories about previous participants, including about our founder Perry's story. Not many places are willing to give men who have just gotten out from the inside a second chance, but TRY gives them the second chance they deserve.  TRY is an incredible program that provides a helping hand and gives a hope to men that they hadn't had before. A few of the staff members are former participants in the program and it's so cool to see how their lives have been changed and how they're leading in the program now. I wish there were more programs like TRY that provide the tools to help men reenter society easier.
How has TRY lent you a hand in your future career path?
A: TRY gave me the opportunity to learn from people that I plan to work with for the rest of my life. People always ask me what I want to do with Criminal Justice (as a career), and TRY helped me realize that I want to help people who deserve a second chance. The men in the TRY program are not bad people; they made different types of mistakes in the past, and that is the only thing that makes them different from me, the types of mistakes that were made. These men want to change their life for the better, and I realized this early on. From there, I was able to build a relationship with a lot of the men within the program, relationships I will never forget. I now have the opportunity to walk into an interview with confidence because I have worked alongside men with an imperfect background.
M: Through my time at TRY, I learned more about marketing, social media, and nonprofits.  This June, I studied abroad in Florence, Italy and learned more about international marketing.  I was excited to apply what I learned there and to bring it back to TRY.  I have a better understanding of how to target a certain age group on social media, and how to market toward them. I also learned the basics of event planning through Beardsley and Burgers, which will help me in the fall when I'm helping to plan for a donor fundraising dinner for my next internship. Thank you to all staff at TRY and for providing me with this opportunity to work alongside you this summer.
Austin and Mari, thank you for all your hard work this summer. We can't wait to see what the future holds for you!