A New Season, a New Board Chair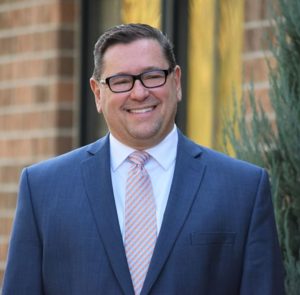 As we celebrate our 20th Anniversary, we look forward to a new season of growth and change. Last month, Chuck Rankin stepped down from his position as Board Chair after ten years of dedicated service. Jerry Fiume, Vice Chair since 2015, has taken on the role and responsibility of leading TRY's Board of Directors.
Jerry is the Managing Director of SVN Summit Commercial Real Estate Group, LLC and an active member of the Akron community. You may recognize his name from the blue and orange signs all over the county. We asked him a few questions to share with you his passion for TRY's mission.
Tell me how you first got involved with Truly Reaching You
"Perry and I met through Leadership Akron.  We spent a lot of time discussing our past and the commonality of being involved in construction and real estate.  It's pretty moving when you have an opportunity to sit down with Perry, "one on one" and listen to his passion."
How do you use your experience in real estate development to further TRY's mission?
"I have been given a gift to be exposed to many opportunities that can benefit TRY and the men that go through the program.  My real estate experience ranges from building out offices and demoing space to building hotels and apartments.  It's vast.  The construction process has many opportunities to learn from the construction trades and to generating revenue that supports our mission.  When I am on a job that TRY is on you can see it in the men.  They see and embrace the second chance that they are getting.  I truly believe that God brought Perry and I together for a purpose."
How has being involved with TRY impacted your view of recovery and reentry?
"Big time.  I love the idea of a man getting a second chance.  The men who stick with the program are great guys.  Putting your arm around a guy and telling him he is good and he is in a good place is a big deal."
What do you see in the future for TRY?
"Maturity.  TRY is growing up as an organization.  Our systems are improving, the benefits provided to the men keep getting better, the Board is adding more value.  It's all good and I am proud to be associated with TRY."
What are you excited to accomplish during your time as Chair?
"Playing a role in planting the seeds for the future of TRY.  A great organization is a living and breathing organism that moves forward on its own, accomplishing its mission without the drive of just one man.  It's time for us to plan that future."
What do you wish other people knew about TRY?
"I hate it when people have preconceived notions of someone who was on, "the inside".  These guys are great guys who just need a second chance.  Who need someone to care about them.  Who need to tell them they are good.  That's Christianity at its best."